I first met this month's featured artist, Ann Karp, as I was planning my four month internship at Koinonia Partners in 2006. She was welcome source of calm and serenity during my time as a part of the community, always able to put things into perspective by taking me out for a run through the pecan orchards or keeping me laughing with her covert "vegeterrorist" actions. Maybe we will cover vegeterrorism in the podcast interview!
I had planned on starting the new year with an interview discussing her work, but had to reschedule when I came home to find my trusty mixer has apparently bitten the dust. Instead, I offer you this, a look at some of her artwork accompanied by her own comments about her work. Enjoy! (please note that clicking on the images will take you to a full size version.)

'This Machine Kills Fascists' was the line famously lettered by the old folk singer and wanderer Woody Guthrie on the front of his guitar. In this design I wanted to give my own generation a sense of his vagabond, subversive, uncertain freedom.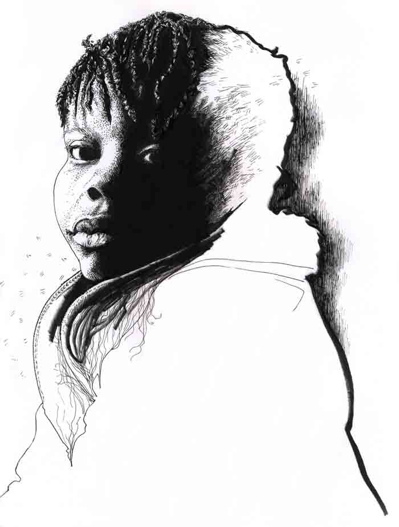 This ink-on-paper was drawn from an arresting photo from the book A Day in the Life of America. The caption: "Lizzy Mack, 12, lives with her mother, brother and sister in a single room on Manhattan's West Side. The room is paid for by New York's Emergency Assistance for Families program. Photographer Letizia Battaglia says, 'Lizzy is like a First Lady, a star of society. She is intelligent, good and beautiful–but she is poor. That is the only difference.'" With both the photo and the drawing, I felt almost as if I should say "Good night, Lizzy" before shutting the book–she's so tangibly there. The photo is from 1986. I wonder where she is now.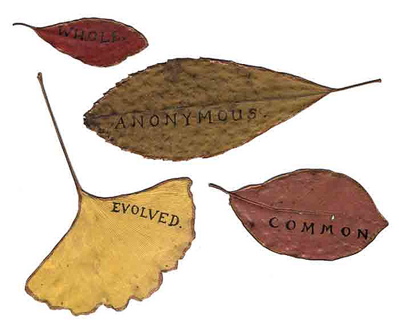 These fallen leaves were gathered from trees at Koinonia, the community where I live, and dried, lettered, gilt-edged, and glazed by hand. I like the idea of small, portable totems that remind the bearer of a truth. Usually, though, the truth is cliched. I'm not challenged by a stone that says "Love"–I too easily reduce it to an easy ideal. I'd rather have words that magnify and complicate a leaf's simultaneous qualities of miraculousness and commonness, power and frailty, structure and decay–qualities we humans also embody.
All of these (and most of the others on my flickr site) are available either in the original or as prints. I also adore commissions; you dream it, I dream it onto paper (or leaves, wood, etc.)
-Ann Karp