Inspired by the 8 hours I spent at the 2009 Bang On A Can marathon, here is an intro to the composers I discovered there.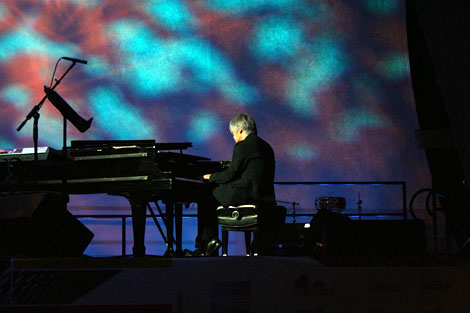 (00:18) Memory – Ethel
John The Revelator (Phil Kline) – Ethel / Lionheart
(09:06) Kyrie
(12:08) Alone
(13:31) Agnus Dei
(17:32) Lick (Julia Wolfe) – Bang On A Can All-Stars
(27:52) Music For Airports – 1/2 (Brian Eno) – Bang On A Can All-Stars
(36:22) 20 msec. – Ryuichi Sakamoto
(41:51) Like A Miracle (Missy Mazzoli) – Victoire
(49:22) for love is strong (David Lang) – Ars Nova Copenhagen
Peruse the Cantaloupe Music catalogue at Other Music or emusic.
Photo:
Ryuichi Sakamoto at the piano, BOAC Marathon 2009 by Andrew Frisicano. This photo originally appeared here. Thanks to Andrew and to Brooklyn Vegan.
Special thanks to Cantaloupe Music and KAB America for allowing me to use these recordings.
Podcast: Play in new window | Download
Subscribe: Apple Podcasts | Google Podcasts | Spotify | Amazon Music | Android | Pandora | Stitcher | Podcast Index | TuneIn | RSS